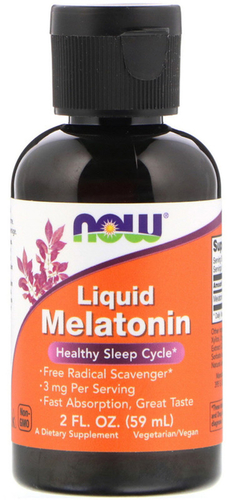 Melatonina liquida 3 mg, 2 fl oz (59 mL) Flacone contagocce
Prezzo di listino:
€ 9.05
Il nostro prezzo:
€ 5.42
(40% di sconto)
Informazioni sugli integratori
Dimensioni porzione:
1 Full Dropper (approx. 0.9 ml)
Porzioni per contenitore:
about 66
Quantità
Per porzione
% dose
giornaliera
(DV)
Melatonin
3 mg
†
Altri ingredienti:
Purified Water, Vegetable Glycerin, Fructose, Xylitol, Grain Alcohol (7%), Orange Extract (Citrus sinensis), Natural Vanilla Flavor, Potassium Sorbate (as preservative), Citric Acid, Malic Acid, Natural Lemon Oil (Citrus limon) and Natural Citrus Flavor.<
Istruzioni:
Shake well. As a dietary supplement for adults, take 1 full dropper (approx. 0.9 mL) just prior to bedtime as needed. Take directly or add to your favorite beverage. Consider taking this product in combination with NOW® True Calm™ and 5-HTP.
AVVERTENZA:
For adult use only. Keep out of reach of children. If you are under medical supervision seek the advice of your physician or health care professional prior to use. Individuals with auto-immune conditions, depressive disorders, those taking sedatives or corticosteroid drugs, or pregnant or lactating women, should consult their physician prior to use. This product may cause drowsiness. Do not operate a vehicle or heavy machinery following consumption of melatonin.
Altre informazioni:
Contains no: salt, starch, yeast, wheat, gluten, soy, milk, egg, shellfish, artificial colors, artificial flavors, or artificial sweeteners. Vegetarian/Vegan Product.
† Dose giornaliera non stabilita.