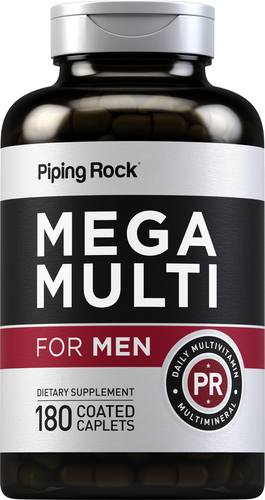 Mega multivitamine per uomo, 180 Pastiglie rivestite
Temporarily Out of Stock
Please check back soon
Informazioni sugli integratori
Dimensioni porzione:
2 Coated Caplets
Porzioni per contenitore:
90
Quantità
Per porzione
% dose
giornaliera
(DV)
Vitamin A USP (as beta-carotene and retinyl palmitate) 
1,500 mcg
167%
Vitamin C USP (as ascorbic acid) 
300 mg
333%
Vitamin D USP (as D3 cholecalciferol)
(2,000 IU) 50 mcg
250%
Vitamin E USP (as natural d-alpha tocopheryl succinate) 
13.4 mg
89%
Thiamin USP (vitamin B-1) (as thiamin hydrochloride)
50 mg
4,167%
Riboflavin USP (vitamin B-2) 
50 mg
3,846%
Niacin USP (as niacinamide) 
50 mg
313%
Vitamin B-6 USP (as pyridoxine hydrochloride) 
50 mg
2,941%
Folate

(400 mcg Folic Acid)

666 mcg DFE
167%
Vitamin B-12 USP (as cyanocobalamin) 
100 mcg
4,167%
Biotin USP
300 mcg
1,000%
Pantothenic Acid USP (as d-calcium pantothenate) 
50 mg
1,000%
Calcium (as calcium carbonate and calcium citrate) 
300 mg
23%
Iodine (as Potassium Iodide)
150 mcg
100%
Magnesium (as magnesium oxide) 
100 mg
24%
Zinc (as zinc oxide) 
25 mg
227%
Selenium (as L-selenomethionine) 
200 mcg
364%
Copper (as copper amino acid chelate) 
2 mg
222%
Manganese (as manganese amino acid chelate) 
2 mg
87%
Chromium
200 mcg
571%
Molybdenum (as molybdenum amino acid chelate)
75 mcg
167%
Choline Bitartrate 
10 mg
*
Inositol 
10 mg
*
Silica (as silicon dioxide) 
12 mg
*
Boron (as boron citrate, boron aspartate, & boron glycinate)
2 mg
*
Lutein 
20 mcg
*
Lycopene 
20 mcg
*
Vanadium (as vanadium amino acid chelate) 
10 mcg
*
Proprietary Amino Balanced Blend:

L-taurine, L-glutamine, L-arginine HCl, N-acetyl L-carnitine HCl, L-carnitine, N-acetyl cysteine

130 mg
*
Special Men's Super Blend:

pumpkin seed (Cucurbita pepo), pygeum (Pygeum africanum) (bark), saw palmetto (Serenoa repens) (fruit), tribulus terrestris extract (fruit), muira puama extract (Ptychopetalum olacoides) (root)

120 mg
*
Ultra Antioxidant Plus Blend:

garlic (Allium sativum) (bulb), alpha lipoic acid, citrus bioflavonoid complex (Citrus limon) (fruit), bilberry (Vaccinium myrtillus) (leaf), elderberry (Sambucus nigra) (fruit), black currant (Ribes nigrum) (fruit), grape extract (Vitis vinifera) (seed & skin), ginger (root), turmeric root (Curcuma longa), milk thistle (Silybum marianum) (seed), 4:1 extracts of brussel sprouts, kale, cauliflower, and celery seed, carrot powder, 20:1 extract of broccoli, cabbage juice powder, Pycnogenol® (Pinus pinaster) (maritime pine bark extract), Co Q-10, super oxide dismutase, ubiquinol, lutein, lycopene, zeaxanthin, astaxanthin

115 mg
*
Energy Blend:

ginkgo biloba (leaf), green tea (leaf), cayenne pepper (fruit), royal jelly concentrate, eleuthero siberian root (Eleutherococcus senticosus), spirulina (Spirulina platensis) (plant), korean ginseng (Panax ginseng) (root), american ginseng (Panax quinquefolius) (root)

100 mg
*
Altri ingredienti:
Cellulose (Plant Origin), Vegetable Stearic Acid, Croscarmellose,
Vegetable Magnesium Stearate, Cellulose Coating.
Istruzioni:
For adult men, take two (2) coated caplets daily, preferably with a meal.
AVVERTENZA:
This product is intended for use by men and is not intended for use by women. If you are taking any medications, planning any medical or surgical procedure or have any medical condition, consult your doctor before use. If any adverse reactions occur, immediately stop using this product and consult your doctor. Not intended for use by persons under the age of 18. If seal under cap is damaged or missing, do not use. Keep out of reach of children. Store in a cool, dry place.
* Dose giornaliera non stabilita.